Additional Security Layer
Our cloud firewalls create an extra barrier around your cloud servers and infrastructure to provide an added level of protection.

Unlimited Scaling
Enjoy infinite scalability for your network. We're as flexible as your business needs.

Reliable Security Solutions
We monitor your server traffic to prevent unauthorized access to your company's network infrastructure.
Protect Your Infrastructure
Kamatera's cloud firewall solutions provide protection from attacks on cloud servers and private cloud networks. Our cloud security experts set up cloud firewalls and monitor your server's activity in real time. We help shield your data by analyzing and filtering data packets to identify source, destination, and content, exclusively authorizing the entry of certified and approved data packets to your servers.
Our highly secure cloud firewalls are an all-in-one solution, as they are compatible with all virtual appliances to deliver comprehensive protection. Kamatera's cloud firewalls can also function as a hardware VPN server and act as a checkpoint for all network traffic. This eliminates the need for additional VPN services.
Due to versatility and infinite scalability options, our cybersecurity services are perfect for individuals, SMBs, and enterprise-level companies. One single cloud firewall can protect your entire cloud infrastructure. However, if you have a large or complex server setup, you can use several firewalls to protect each server cluster and its ruleset.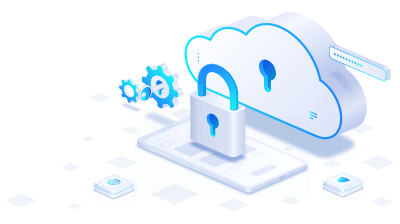 Frequently Asked Questions
How do Kamatera's cloud firewalls work?
Kamatera's cloud firewalls prevent unauthorized access to your network infrastructure by intercepting and then rerouting or blocking unwanted traffic. The firewall analyses the data packets and filters them based on their source, destination, and content, according to the rules you define.
You can set up a cloud firewall on your server by following these steps:
·        Log in to the Kamatera Control Panel
·        Launch a new firewall in any of our data centers
·        Configure you VLANs
·        Connect the firewall NICs to the relevant VLANs
·        Use provided IP and URL to log in and manage your firewall
Which industries can use Kamatera's cloud firewalls and how?
Kamatera's cloud firewalls are compatible with any organization's cloud servers and infrastructure, regardless of their industry. Some examples are:
·   App Developers: Online application developing companies are at high risk from unauthorized sources and data theft. Kamatera's cloud firewalls monitor network traffic to prevent unauthorized access to protect your and your client's apps.
·   Start-Up Businesses: These companies are more vulnerable to cyber threats due to a lack of security resources. The firewall creates a ring fence around the business' networks to protect against hackers, viruses, malware, and other malicious attacks.
·   Large Enterprises: These organizations may have multiple websites and cloud-based apps that can increase vulnerability spots like open ports in the cloud infrastructure. The firewall identifies these security weaknesses and takes protective measures to resolve them.
·   SaaS Systems Providers: These providers have a vast team working from various locations, increasing the chances of unwanted attacks. Kamatera offers a firewall for each location with site-to-site connectivity to decrease cybersecurity threats.
Which cyberattacks can a cloud firewall protect against?
Kamatera's cloud firewalls add a great protective barrier for your cloud servers and private cloud networks against:
·   Malware
·   Unauthorized and suspicious sources
·   Intrusion attacks
·   Malicious attacks (DoS, code injection, and viruses)
·   Hidden root kits installations
·   Spyware
·   Data leakage
Does Kamatera offer technical support?
Kamatera has a global technical support team that is available 24/7/365. You can email, call, or chat with us on our live chat to share your concerns and queries. Our customer support representatives will provide a prompt response to resolve your concerns.